Dr Sharmin Bala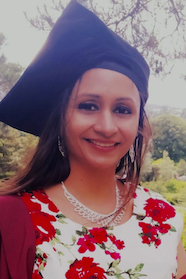 Contact Details
Phone

+64 22 089 3600

Email
University Links
Position

Research Fellow and Professional Practice Fellow

Qualifications

MBBS (Bachelors in Medicine and Surgery) MD (Post-graduation in Clinical Pharmacology) PhD

Research summary

Dementia, Covid-19, interRAI, geriatric pharmacoepidemiology, pharmacovigilance research

Teaching

Early Learning in Medicine: Integrated Cases, and Early Professional Experience
Inter-professional Education

Memberships

Alzheimer's Association International Society to Advance Alzheimer's Research and Treatment
APSA: Australasian Pharmaceutical Science Association
ASCEPT:The Australasian Society of Clinical and Experimental Pharmacologists and Toxicologists
Indian Pharmacological Society
Sir H N Reliance Medical Research Society
Stop Gaps Choral Ensemble and Cultural Academy
Research
I am working on a research grant funded by Brain Research New Zealand as an employee of the University of Otago in collaboration with the University of Auckland.
Project Title: Impact of COVID-19 on the health and psychosocial status of vulnerable older Māori and Pacific people living in the community and aged residential care.
I am working in collaboration with the Gerontology Research team and Pacific Health department in Christchurch and Dunedin on heart failure projects in the Pacific population in New Zealand.
My Doctoral Thesis was: Assessing medication appropriateness in older adults and suggesting therapeutic alternatives in individuals with dementia.