Dr Adriana Saraiva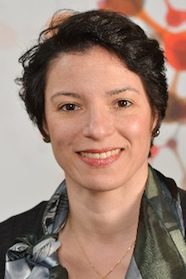 Contact Details
University Links
Position

Teaching Fellow

Department

Department of Pathology (Dunedin)

Qualifications

PhD in Cell Biology

Research summary

Brain tumour subtypes, Glioblastoma and Meningioma

Teaching

Histopathology. Current Teaching Fellow at the Pathology Department, giving support to the Medical Laboratory Science Programme (second and third year)

Clinical

Inflammation, tumorigenesis, cellular trafficking, metastasis, intracellular signalling, genomics, epigenetics.
Research
Brain tumour is a solid mass of cells characterised by an abnormal and uncontrolled growth pattern. Depending on the cell origin, the tumour is classified as primary (starting in the brain) or secondary / metastatic. The brain metastases corresponds to cancer cells that escaped from its original locus (other part of the body), migrated, installed, infiltrated and now grows in the intracranial area.
One in 4 patients with cancer may develop brain metastases. It has, typically, more aggressive outcomes with poor prognoses, requiring a quick and precise medical decision. The understanding of tumour subtypes is fundamental for an accurate diagnosis and to estimated prognosis and two find the an effective therapeutic approach.
Glioblastoma is an aggressive and devastating brain cancer which median survival is only 15 months. Some tumours in the brain may be largely benign, having slow growth. The most common type is called Meningioma, which make up 30% of central nervous system tumours (incidence 6 per 100,000) and is 2.8 times more frequent in Māori. Twenty percent of patients have atypical lesions (WHO grade II) and have an unpredictable outcome, making them difficult to clinically management. A more accurate means to predict outcome for those with atypical meningiomas exists based on new molecular based technologies. These methods provide a better understanding of how tumours with similar morphology can behave differently to a treatment.
Meningioma and Glioblastoma project: The DNA methylation-base classification for meningioma has distinct ability to subtype brain tumours and better predict longer-term overall survival compared to the current morphology based WHO grade (p= 0.0096). This system has been designed with clinical practice in mind, with a pipeline for data analysis and subtype assignment. This project will adapt the molecular classification system for use in FFPE samples in New Zealand. The project will also determine if the subtypes are also relevant for Māori patients or if modified subtypes are required. This project is in collaboration with Dunedin and Hamilton hospitals.