Associate Professor Rajesh Katare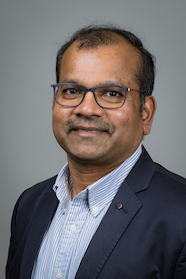 Contact Details
Phone

+64 3 479 7292

Email
Position

Associate Professor and Head of Department

Department

Department of Physiology

Qualifications

MBBS PhD

Research summary

Cardiovascular disease; diabetes

Teaching

Teaching PHSL 232, ELM 2, PHSL 471, HUBS 192
Special topics: BIOE 404, BIOE 405

Memberships

Physiological Society of New Zealand
American Heart Association
Association of Physiologists of India
HeartOtago
Pain at Otago
Research
My research interests include:

Molecular mechanisms involved in the development of cardiovascular complications in diabetes
Role of microRNAs in cardiovascular diseases
Development of novel genetic therapies for the treatment of ischemic and non-ischemic cardiovascular complications
Projects include:

Pathological role of microRNAs in the development of diabetic cardiomyopathy
Circulating microRNAs as potential biomarkers for early diagnosis of cardiovascular complications
Investigating the role of suicidal autophagy in diabetic hearts
Mechanistic therapies for the treatment of diabetic ulcer
Nanoparticle mediated delivery of RNA for the treatment of cardiovascular disease
Publications
Reynolds, A. N., Hood, F., Wilson, R., Ross, A., Neumann, S., Turner, R., Iosua, E., Katare, R., Shahin, A., Kok, Z.-y., … Coffey, S., & Mann, J. (2023). Healthy grocery delivery in the usual care for adults recovering from an acute coronary event: protocol for a three-arm randomised controlled trial. BMJ Open, 13, e074278. doi: 10.1136/bmjopen-2023-074278
Kovanur Sampath, K., Belcher, S., Hales, J., Thomson, O. P., Farrell, G., Gisselman, A. S., Katare, R., & Tumilty, S. (2023). The role of micro-RNAs in neuropathic pain: A scoping review. PAIN Reports, 8, e1108. [Review].
Avolio, E., Campagnolo, P., Katare, R., & Madeddu, P. (2023). The role of cardiac pericytes in health and disease: Therapeutic targets for myocardial infarction. Nature Reviews Cardiology. Advance online publication. doi: 10.1038/s41569-023-00913-y
Munasinghe, P. E., Saw, E. L., Reily-Bell, M., Tonkin, D., Kakinuma, Y., Fronius, M., & Katare, R. (2023). Non-neuronal cholinergic system delays cardiac remodelling in type 1 diabetes. Heliyon, 9, e17434. doi: 10.1016/j.heliyon.2023.e17434
Chandrasekera, D., Shah, R., van Hout, I., de Jonge, W., Bunton, R., Parry, D., Davis, P., & Katare, R. (2023). Combination of precipitation and size exclusion chromatography as an effective method for exosome like extracellular vesicle isolation from pericardial fluids. Nanotheranostics, 7(4), 345-352. doi: 10.7150/ntno.82939