PhD (Curtin University, Perth), MSc (KTH, Stockholm), BSc (University of Gävle)
Email: robert.odolinski@otago.ac.nz
Phone: 64-3-479-5401
Room: Surveying building, 1st floor, Room 127
Profile
Robert teaches Geodesy and least-squares adjustment theory, and conducts research in Regional/Global Navigation Satellite Systems (RNSSs/GNSSs). In 2006 and 2009, respectively, he obtained his BSc and MSc degree in Geodesy and Geoinformatics (Sweden). He then decided to study for a PhD in multi-GNSS precise positioning at Curtin University (Australia), in 2011 to late 2014. Once his PhD was accepted in January 2015, he joined the School of Surveying as a Lecturer. He was subsequently appointed Senior Lecturer and was awarded a University of Otago Early Career Award for Distinction in Research, all for his performance at the Otago University in the first two and three years, respectively. His research interests involve deriving mathematical models for the combination of different countries' RNSSs/GNSSs, and investigating the corresponding positioning performance improvement that is achievable when compared to using the systems separately (e.g. GPS-only). Particular emphasis of his research is on the positioning performance using low-cost receivers in New Zealand, as one of the few countries in the world with a good visibility of almost all RNSSs/GNSSs.
Teaching
Research Interests
Projects
Patents
Supervision
Current Research Students
Ryan McNie (2018), BSurv Hons, Between-baseline differenced RTK positioning for car-to-car accident avoidance
Previous Research Students
Luke Johnson (2017), BSurv Hons, Kinematic performance of low-cost, multi-constellation, single-frequency RTK receivers, for integration with RPAS
Nicki Shaw (2017), BSurv Hons, Developing an effective modelling process for deformation of structural elements using TLS point cloud data, with specific reference to the Percy Burns Viaduct in Fiordland
Callum Johns (2016), BSurv Hons, On the use of low-cost, single-frequency, multi-constellation Global Navigation Satellite System (GNSS) receivers in everyday surveying applications in New Zealand. Once Callum was finished he was granted the "2016 Premier Undergraduate Prize in the Division of Sciences", which recognizes him as the Division's most outstanding student completing an honors degree
Ahmad Musa (2016), BSurv Hons, Monitoring on a Budget: Exploring the monitoring capabilities of low-cost, multi-constellation, single-frequency GNSS receivers
PhD opportunities
I have a number of potential projects in the area of GNSS precise positioning for PhD research. Students interested should first establish if they are likely to be a successful candidate for a University of Otago post-graduate scholarship. You must have a University of Otago equivalent grade point average of at least 8.0 to be eligible. These scholarships pay all tuition fees and a tax-free stipend of NZ$25,000, and are open to all international students. Further information can be obtained from the University of Otago Postgraduate Study website.
Responsibilities
School
Mentor for one year of undergraduate students at the School of Surveying (2017-)
Postgraduate and research committee (2015-)
Other
Chair at Institute of Navigation (ION) ITM in Monterey California, USA, January 30-February 02, 2017
Chair at Institute of Navigation (ION) PLANS in Savannah, Georgia, USA, April 11-14, 2016
Chair at the International Global Navigation Satellite Systems Society (IGNSS) symposium in Golden Coast, Australia, July 16-18, 2013 and July 14-16 2015
Chair at the International Association of Geodesy (IAG) in Potsdam, Germany, September 1-6, 2013
Professional Activities
Awards and Achievements
University of Otago Early Career Award for Distinction in Research (2018). The award means that Robert has become a member of the O-Zone Group. O-zone conveners sit on the University of Otago Research Committee to represent early career staff. The group exemplifies the University of Otago's national and international leadership, including world-class researchers across the spectrum of disciplines – science, medical science, social science, commerce, business, humanities and the arts.
Low-cost RTK receiver research selected for the Innovation column of GPS World. GPS World has covered the global positioning industry since 1989, and in 2015 their website had over 600 000 users and 1.3 million views as the world-leading magazine of its kind.
Nominated for OUSA Teaching Awards (2016)
In the special collection of some of the best journal articles published in Measurement Science and Technology (2015)
Journal of Spatial Science Best Research Paper Award (2013) on "First combined COMPASS/BeiDou-2 and GPS positioning results in Australia", available in issue 1, 2015
Institute of Navigation (ION) best presentation award (2014) for paper "Combined GPS+BDS+Galileo+QZSS for Long Baseline RTK Positioning"
Travel award, International Association of Geodesy (IAG) symposium (2013) for presenting "Combined GPS, BeiDou, Galileo, and QZSS single-epoch, single-frequency RTK performance analysis", which is a paper on the first results world-wide on combining four satellite systems for precise positioning
Editorial
Refereeing
Reviewing for journals GPS Solutions (2014-), Journal of Geodesy (2015-), Navigation (2015-), Journal of Spatial Science (2015-), Journal of Navigation (2015-), Measurement Science and Technology (2018-), Advances in Space Research (2016-), Sensors (2016-), Journal of Surveying Engineering (2017-), Geophysical Journal International (2017-), Remote Sensing (2017-), Survey Review (2017-)
Reviewing for international conferences at the Federation of Surveyors (FIG) conference (2010), the International Global Navigation Satellite Systems Society (IGNSS) symposium (2013, 2015-), Institute of Navigation (ION) PLANS (2016-), ION International Technical Meeting (ITM) (2017-)
Memberships
Inter-Commission Committee on Theory (ICCT) in the period 2015 – 2019, JSG 0.17: Multi-GNSS theory and algorithms of the International Association of Geodesy (IAG)
Member of the National Positioning Infrastructure Coordination Committee (NPICC) of New Zealand, led by Land Information New Zealand (LINZ) - as to inform Government of future developments and opportunities within this area and to provide a coordinated approach to insure that positioning needs for New Zealand are well catered for.
Institute of Navigation (ION)
International Global Navigation Satellite Systems Society (IGNSS)
Member of the University of Otago Transport Research Network
Research impact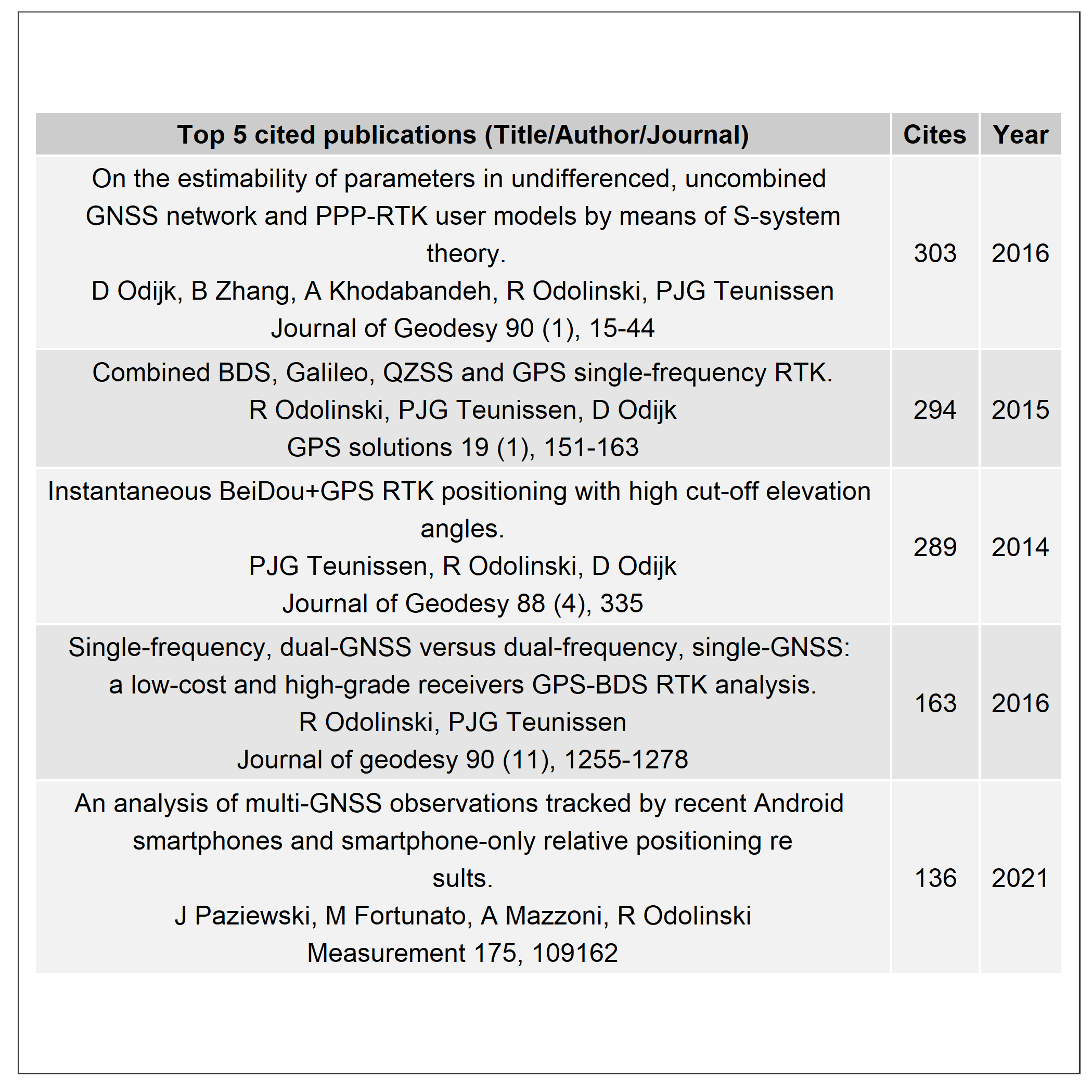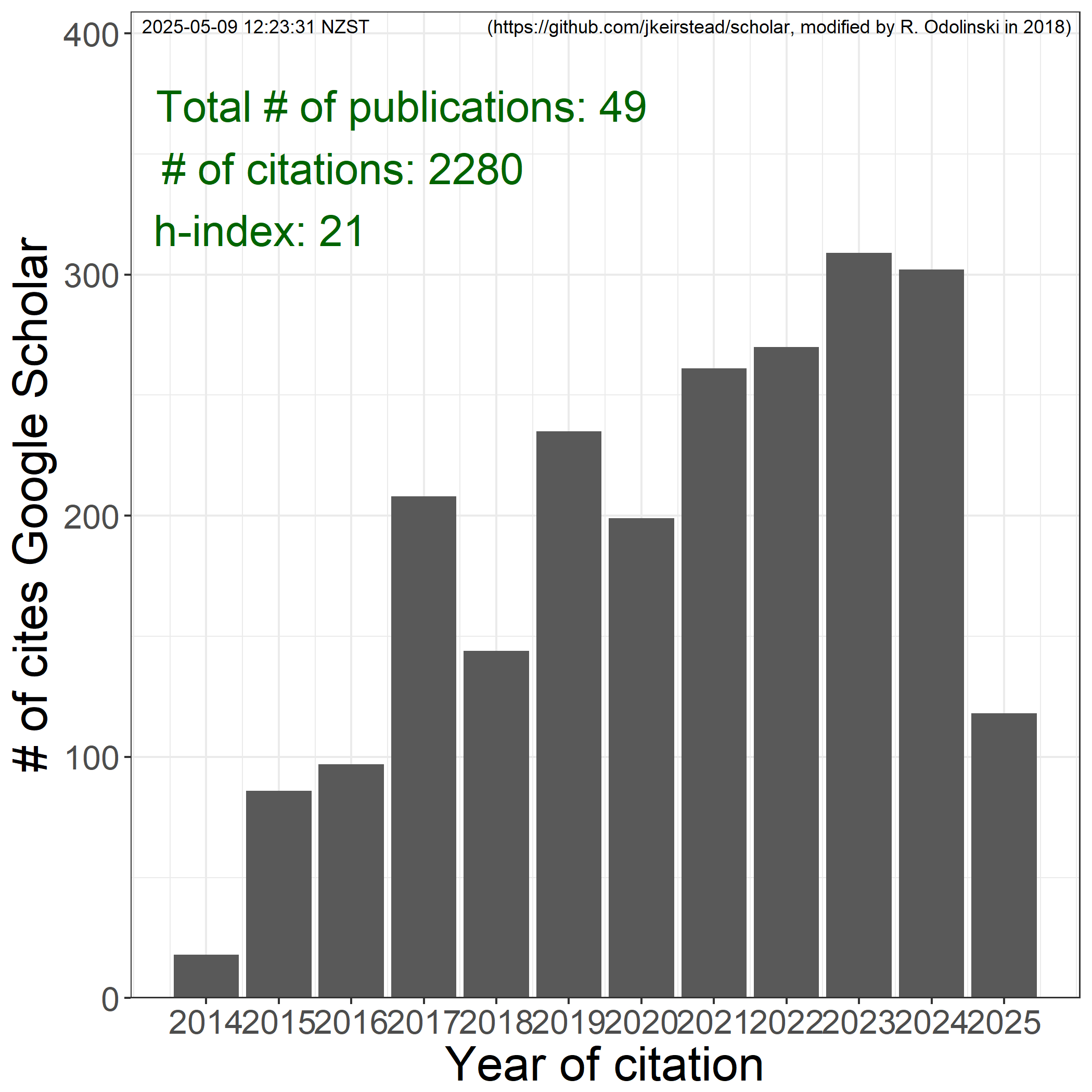 Publications
Odolinski, R., & Teunissen, P. J. G. (2017). Low-cost, 4-system, precise GNSS positioning: A GPS, Galileo, BDS and QZSS ionosphere-weighted RTK analysis. Measurement Science & Technology, 28(12), 125801. doi: 10.1088/1361-6501/aa92eb
Odolinski, R., & Teunissen, P. J. G. (2017). Low-cost, high-precision, single-frequency GPS–BDS RTK positioning. GPS Solutions, 21(3), 1315-1330. doi: 10.1007/s10291-017-0613-x
Odolinski, R., & Teunissen, P. J. G. (2016). Single-frequency, dual-GNSS versus dual-frequency, single-GNSS: A low-cost and high-grade receivers GPS-BDS RTK analysis. Journal of Geodesy, 90(11), 1255-1278. doi: 10.1007/s00190-016-0921-x
Odolinski, R., Teunissen, P. J. G., & Odijk, D. (2015). Combined BDS, Galileo, QZSS and GPS single-frequency RTK. GPS Solutions, 19, 151-163. doi: 10.1007/s10291-014-0376-6
Teunissen, P. J. G., Odolinski, R., & Odijk, D. (2014). Instantaneous BeiDou+GPS RTK positioning with high cut-off elevation angles. Journal of Geodesy, 88(4), 335-350. doi: 10.1007/s00190-013-0686-4