Dr Emma Wade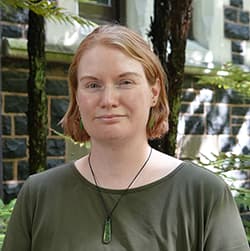 Contact Details
Position

Research Fellow

Department

Department of Women's and Children's Health (Dunedin)

Qualifications

PhD

Research summary

Clinical Genetics
Research
Emma is working in Professor Stephen Robertson's Clinical Genetics Laboratory as a postdoctoral fellow. The aim of her PhD project was to discover the genetic mechanism behind a very rare genetic condition called Frontometaphyseal Dysplasia (FMD).
Patients with FMD have dense, sclerotic bones. It is thought that their genetic mutations disrupt their ability to sense mechanical forces in their skeletons leading to an accumulation of bone. A subset of FMD patients have mutations in the cytoskeletal protein filamin A; through the use of cellular and animal models, Emma hopes to find the role of filamin A in skeletal mechanosensing.
For the remainder of FMD patients, the genetic causes for their condition are unsolved. Emma is using exome sequencing to discover the causative variants in these patients and plans to characterise the function of these variants in bone development. This work will highlight cellular cues which govern how the skeleton adapts to daily life, meaning it could have important implications for the treatment of complex skeletal disease such as osteoporosis.