Dr Natasha Flack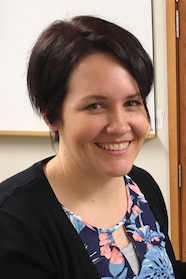 Contact Details
Phone

+64 3 479 7406

Email
University Links
Position

Lecturer

Department

Department of Anatomy

Qualifications

BSc(Hons) PhD

Research summary

Clinical anatomy and anatomical sciences education

Teaching

ANAT101: Anatomy for Sport and Exercise
ANAT331: Functional Anatomy
PHTY250: Anatomy for BPhty
ANAT451: Functional Human Anatomy
ANAT458: Current Topics in Anatomical Science

Memberships

2011-present: Australian and New Zealand Association of Clinical Anatomists (ANZACA), Member, Council Member, Treasurer.
Research
In her clinical anatomy research, Natasha's primary interest is in the musculoskeletal anatomy of the lower limb, and the ultimate aim of her research is to provide scientific, anatomical evidence for improving clinical treatments, procedures and outcomes. She incorporates a range of techniques such as imaging (MRI, ultrasound etc), dissection and histology into her research approaches. Recent projects have investigated the anatomy of the iliocapsularis muscle, the pubic symphysis, and the gluteal muscles, and their particular roles in different pathological conditions. Natasha has also recently been working with Podiatrists at the CDHB to develop a system for the accurate mapping and recording of diabetic foot ulcers.
In her anatomical sciences education research Natasha is focused on student's perceptions of learning anatomy and in particular the role that using cadaveric tissue plays in the success of learning anatomy. Natasha is currently involved in studies that look at Science students' perceptions of using cadaveric tissue, and what support systems are in place, and/or are needed to ensure the success of their learning. Along with other members of the ASERT Natasha is interested in the link between motivation, attendance and learning, and identifying particular threshold concepts that may be associated with learning advanced anatomical knowledge.
Publications
Flack, N. A. M. S., McClea, K., & Nicholson, H. D. (2017). Commemoration practices at Otago: Experiences from a bicultural society. In G. Štrkalj & N. Pather (Eds.), Commemorations and memorials: Exploring the human face of anatomy. (pp. 119-132). Singapore: World Scientific.
Chapter in Book - Research
Nicholson, H., Woodley, S., & Flack, N. (2016). Gluteal muscles and lateral rotators of the hip. In R. S. Tubbs, M. M. Shoja & M. Loukas (Eds.), Bergman's comprehensive encyclopedia of human anatomic variation. (pp. 386-409). Hoboken, NJ: John Wiley & Sons. [Encyclopaedia/Dictionary Entry].
Chapter in Book - Research
Flack, N. A. M. S., Frost, K., Aravazhi, S., Macmillan, A., Blyth, P., Woodley, S. J., Nicholson, H. D., Hurren, B. J., & Bird, R. J. (2022). "Thank you for your sacrifice, I will try to make sure your donation wasn't in vain": Undergraduate science students' perceptions on the use of cadaveric material in learning anatomy. Education Sciences, 12, 451. doi: 10.3390/educsci12070451
Journal - Research Article
Perraton, Z., Lawrenson, P., Mosler, A. B., Elliott, J. M., Weber, II, K. A., Flack, N. A. M. S., Cornwall, J., … Semciw, A. I. (2022). Towards defining muscular regions of interest from axial magnetic resonance imaging with anatomical cross-reference: A scoping review of lateral hip musculature. BMC Musculoskeletal Disorders, 23(1), 533. doi: 10.1186/s12891-022-05439-x
Journal - Research Article
Flack, N. A. M. S., Depledge, J., Hay-Smith, E. J. C., Stringer, M. D., Gray, A. R., & Woodley, S. J. (2020). A self-report questionnaire for pregnancy-related symphyseal pain. Musculoskeletal Science & Practice, 48, 102151. doi: 10.1016/j.msksp.2020.102151
Journal - Research Article
Pather, N., Blyth, P., Chapman, J. A., Dayal, M. R., Flack, N. A. M. S., Fogg, Q. A., … Woodley, S. J., & Lazarus, M. D. (2020). Forced disruption of anatomy education in Australia and New Zealand: An acute response to the Covid-19 pandemic. Anatomical Sciences Education, 13, 284-297. doi: 10.1002/ase.1968
Journal - Research Article
Flack, N. A. M. S., & Nicholson, H. D. (2018). What do medical students learn from dissection? Anatomical Sciences Education, 11(4), 325-335. doi: 10.1002/ase.1758
Journal - Research Article
Lube, J., Flack, N. A. M. S., Cotofana, S., Özkurtul, O., Woodley, S. J., Zachow, S., & Hammer, N. (2017). Pelvic and lower extremity physiological cross-sectional areas: An MRI study of the living young and comparison to published research literature. Surgical & Radiologic Anatomy, 39(8), 849-857. doi: 10.1007/s00276-016-1807-6
Journal - Research Article
Flack, N. A. M. S., & Nicholson, H. D. (2016). Historical perspective: Anatomy down the ages in Australasia; lessons for the future. Clinical Anatomy, 29(1), 4-10. doi: 10.1002/ca.22640
Journal - Research Article
Hurren, B. J., & Flack, N. A. M. S. (2016). Prader-Willi syndrome: A spectrum of anatomical and clinical features. Clinical Anatomy, 29(5), 590-605. doi: 10.1002/ca.22686
Journal - Research Article
Flack, N. A. M. S., Hay-Smith, E. J. C., Stringer, M. D., Gray, A. R., & Woodley, S. J. (2015). Adherence, tolerance and effectiveness of two different pelvic support belts as a treatment for pregnancy-related symphyseal pain: A pilot randomized trial. BMC Pregnancy & Childbirth, 15, 36. doi: 10.1186/s12884-015-0468-5
Journal - Research Article
Flack, N. A. M. S., Nicholson, H. D., & Woodley, S. J. (2014). The anatomy of the hip abductor muscles. Clinical Anatomy, 27(2), 241-253. doi: 10.1002/ca.22248
Journal - Research Article
Flack, N. A. M. S., Meikle, G. R., Reddy, M., Nicholson, H. D., & Woodley, S. J. (2012). Hip abductor muscle volume in women with lateral hip pain: A case-controlled study. Surgical & Radiologic Anatomy, 34(9), 847-855. doi: 10.1007/s00276-012-0970-7
Journal - Research Article
Flack, N. A. M. S., Nicholson, H. D., & Woodley, S. J. (2012). A review of the anatomy of the hip abductor muscles, gluteus medius, gluteus minimus, and tensor fascia lata. Clinical Anatomy, 25(6), 697-708. doi: 10.1002/ca.22004
Journal - Research Article
Aldabe, D., Hammer, N., Flack, N. A. M. S., & Woodley, S. (2019). A systematic review of the morphology and function of the sacrotuberous ligament. Clinical Anatomy, 32(3), 396-407. doi: 10.1002/ca.23328
Journal - Research Other