Dr Kanchana Subasinghe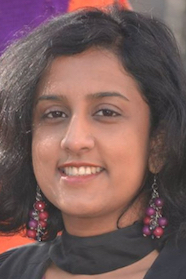 Contact Details
Phone

+64 21 0852 8847

Email
University Links
Position

Professional Practice Fellow

Department

Department of Anatomy

Qualifications

MD (Russia) MSc (Otago) PhD

Research summary

Characterisation of collagen fibre alterations in cornea following cross-linking (CXL) treatment

Teaching

Undergraduate teaching:


Professional courses: ELM 2, ELM 3 & ALM 5 (2nd, 3rd and 5th-year Medical), PHTY 250, (Physiotherapy 2nd year), DENT 262 (Dental 2nd year), Pharmacy 4th year
Science courses: ANAT 331, ANAT 101

Postgraduate teaching:


Postgraduate Diploma in Surgical Anatomy
Postgraduate Ophthalmology course
FRACS

Memberships

CARG
Australian and New Zealand Association of Clinical Anatomists
Anatomical Society, Faculty of Medicine, University of Colombo, Sri Lanka

Clinical

Clinical Education Research and Clinical Anatomy Research
Research
Keratoconus (KC) is a disease included in a wider range of diseases called corneal ectasia which leads to spontaneous, non-inflammatory, self-limiting ectasia of the cornea that results in localised corneal thinning with protrusion of the thinned cornea. Incidence of KC varies greatly within different ethnic groups with most estimates between 50 and 230 per 100,000 of population (approximately 1 per 2000) with a prevalence of 54.5 per 100.000 in early studies. In New Zealand, the prevalence of high incidence of keratoconus has been known for more than 30 years with a considerably high percentage in Maori and Pacific Islanders in contrast to European and Asian populations.
In recent years, corneal crosslinking (CXL) treatment with ultraviolet light (UVA) and riboflavin has been introduced as a minimally invasive treatment option to arrest the progression of keratectasia and it has revolutionised the treatment of KC.
Presently I am looking into long term effects and morphological changes of corneal stromal collagen fibres following crosslinking treatment.