Nethmini Haththotuwa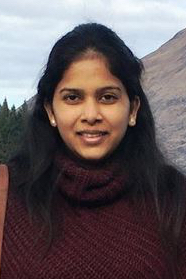 Contact Details
University Links
Position

PhD Student

Department

Department of Anatomy

Qualifications

Bachelor of Veterinary Medicine (Sri Lanka) MSc (Sri Lanka)

Research summary

Novel protein, in vivo and in vitro characterisation, skin and hair health

Teaching

Undergraduate teaching: HUBS 191 and HUBS 192 (first year), Med2 Gross Anatomy, Med 2/3 Histology, Med 3-RDA Histology (2nd and 3rd year Medical)

Memberships

Clinical Anatomy Research Group
Australian and New Zealand Association of Clinical Anatomists (ANZACA)
Anatomical Society, Faculty of Medicine, University of Colombo, Sri Lanka
Physiological Society United Kingdom
Physiological Society Sri Lanka
Young scientist forum Sri Lanka
Peradeniya University Teachers Association
Society of Companion Animal Practitioners of Sri Lanka
Sri Lanka Association of Animal Production
Alumni Association University of Peradeniya
Research
Currently, Im looking at the effects of a novel protein, developed by the Dias research group, on the health of hair and skin using in vivo and in vitro tests.
Additional details
Lecturer (probationary) at Department of Basic Sciences, Faculty of Allied Health Sciences, University of Peradeniya, Sri Lanka (February 2015 to present).
Dr Nethmini Haththotuwa
Won both first place and people's choice awards for the 2020 "Bake your Thesis" competition.
Publications
Ratnayake, J., Camilleri, J., Haththotuwa, T. N., & Huang, J. (2023). In vitro biological testing of dental materials. In G. J. Seymour, M. P. Cullinan, N. C. K. Heng & P. R. Cooper (Eds.), Oral biology: Molecular techniques and applications: Methods in molecular biology (Vol. 2588). (3rd ed.) (pp. 505-524). New York, NY: Springer. doi: 10.1007/978-1-0716-2780-8_31
Dias, G. J., Haththotuwa, T. N., Rowlands, D. S., Ingram, M., & Bekhit, A. E.-D. A. (2022). Wool keratin: A novel dietary protein source: Nutritional value and toxicological assessment. Food Chemistry, 383, 132436. doi: 10.1016/j.foodchem.2022.132436
Ratnayake, J., Camilleri, J., Haththotuwa, T. N., & Huang, J. (2023). In vitro biological testing of dental materials. In G. J. Seymour, M. P. Cullinan, N. C. K. Heng & P. R. Cooper (Eds.), Oral biology: Molecular techniques and applications: Methods in molecular biology (Vol. 2588). (3rd ed.) (pp. 505-524). New York, NY: Springer. doi: 10.1007/978-1-0716-2780-8_31
Chapter in Book - Research
Dias, G. J., Haththotuwa, T. N., Rowlands, D. S., Ingram, M., & Bekhit, A. E.-D. A. (2022). Wool keratin: A novel dietary protein source: Nutritional value and toxicological assessment. Food Chemistry, 383, 132436. doi: 10.1016/j.foodchem.2022.132436
Journal - Research Article