Dr Janine Winters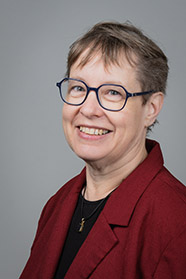 Contact Details
Phone

64 3 471 6120

Email
University Links
Position

Senior Lecturer

Department

Bioethics Centre

Qualifications

Medical Doctor. Specialist in palliative medicine, paediatric palliative care, and family medicine.

Research summary

End-of-life medical issues for adults and children, and high-stakes decision-making for children.

Teaching

Co-convenor, BITC 405 Bioethics in Clinical Practice
Tutor, ELM2 tutorial Clinical Skills
Tutor, ELM2 tutorial Early Professional Experience
Lecturer and tutor for Bioethics Longitudinal Model, Otago School of Medicine
Palliative Medicine Education, including lectures and tutorials on symptom management, last days of life (ALM), and pain management (ALM5).
Paediatrics education – adolescent decision-making and paediatric palliative care
Ethics of genetics

Memberships

Australia New Zealand Society of Palliative Medicine
Australasian Association of Bioethics and Health Law
American Academy of Hospice and Palliative Medicine
American Academy of Family Medicine
Alpha Omega Alpha Medical Honor Society

Clinical

<p>I work half time (plus on call) at the Otago Community Hospice where I see patients and oversee clinical medical student education in Palliative Medicine. In prior years I have been the director of a Paediatric Palliative Care programme at Nationwide Children's Hospital, where I was also in a leadership role of the Clinical Ethics Committee.</p>
Research
I am interested in Clinical Ethics consultations, especially regarding dilemmas in paediatrics and end-of-life care.
Additional details
I have previously taught modules on Literature in Medicine.
I work half time at the University of Otago and half time at the Otago Community Hospice.
I worked at the Bay of Islands Hospital, Kawakawa, in 2005–2006.
I am from Ohio, USA. My husband has a PhD in European and Military History and we have three children.
I realised as I wrote this how much I like living and working in places that begin and end in "O".