Dr Elizabeth Fenton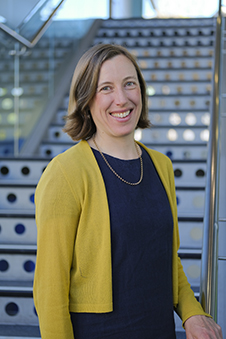 Contact Details
Phone

+64 3 471 6128

Email
University Links
Position

Lecturer

Department

Bioethics Centre

Qualifications

PhD (Virginia) MPH (Virginia)

Research summary

Public health ethics, global health, resource prioritisation, health policy

Teaching

Bioethics teaching across health professional schools; Lecturer BITC 404 (Ethics and Health Care); Lecturer PHIL 235 (Environmental Philosophy)
Research
My research focuses on the ethical, political, and social dimensions of public health and health policy. I am particularly interested in notions of fairness and equity in health resource allocation and policy making. I draw on a background in philosophy and public health, as well as my experience working for two national advisory bodies, first the National Ethics Advisory Committee in New Zealand, and later the Presidential Commission for the Study of Bioethical Issues in Washington D.C.
I have published on a range of topics in bioethics, including human rights, conscientious objection, enhancement, and fairness in resource prioritisation.
Publications
Fenton, E., & Chillag, K. (2022). We want to help: Ethical challenges of medical migration and brain waste during a pandemic. Journal of Medical Ethics. Advance online publication. doi: 10.1136/jme-2022-108311
Journal - Research Article
Fenton, E. (2021). Reciprocity and resources. Journal of Practical Ethics, 9(1). doi: 10.3998/jpe.1519
Journal - Research Article
Fenton, E., & Chillag, K. (2021). Conditions of global health crisis decision-making: An ethical analysis. Journal of Bioethical Inquiry, 18, 395-402. doi: 10.1007/s11673-021-10100-8
Journal - Research Article
Fenton, E. (2020). Management of personal protective equipment in New Zealand during the COVID-19 pandemic: Report from the Auditor-General. New Zealand Medical Journal, 133(1522), 144-148. Retrieved from https://www.nzma.org.nz/journal
Journal - Research Other
Fenton, E., & Hanfling, D. (2019). Natural and industrial disaster events, public health, and ethics. In A. C. Mastroianni, J. P. Kahn & N. E. Kass (Eds.), Oxford handbook of public health ethics. New York, NY: Oxford University Press. doi: 10.1093/oxfordhb/9780190245191.013.68
Chapter in Book - Research
Fenton, E., Chillag, K., & Michael, N. L. (2015). Ethics preparedness for public health emergencies: Recommendations from the Presidential Bioethics Commission. American Journal of Bioethics, 15(7), 77-79. doi: 10.1080/15265161.2015.1054162
Journal - Research Other
Arras, J. D., Fenton, E., & Kukla, R. (Eds.). (2015). Routledge companion to bioethics (1st ed.). New York, NY: Routledge, 608p.
Edited Book - Research
Fenton, E. (2011). Mind the gap: Ethical issues of private treatment in the public health system. New Zealand Medical Journal, 124(1334), 89-96. Retrieved from http://www.nzma.org.nz/journal
Journal - Research Other
Fenton, E. (2010). Making fair funding decisions for high cost cancer care: The case of herceptin in New Zealand. Public Health Ethics, 3(2), 137-146. doi: 10.1093/phe/phq011
Journal - Research Article