Associate Professor Heather Cunliffe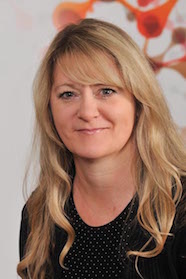 Contact Details
Phone

64 3 479 5060

Email
Position

Associate Professor

Department

Department of Pathology (Dunedin)

Qualifications

BSc(Hons) PhD

Research summary

Translational biomarker discovery in breast and ovarian cancer

Teaching

GENE 360 Special Topics in Genetics
GENE 411 Current Topics in Genetics (Course Convenor)
MELS 304 Principles of Pathology
MICN 201 Medicine Second Year
MICN 301 Medicine Third Year
PATH 201 Foundations in Human Pathology
PATH 301 Advanced Pathology
PATH 302 Cancer Biology (Course Convenor)

Memberships

Member, Health Research South Board
Member, Australia New Zealand Gynaecological Oncology Group (ANZGOG)
Active Member, American Association for Cancer Research (AACR)
Member, AACR-Women in Cancer Research
Member, New Zealand Society for Biochemistry and Molecular Biology
Research
The focus of Associate Professor Cunliffe's research is the discovery and validation of biomarkers that will impact therapeutic decision-making and improve treatment outcomes for breast cancer and ovarian cancer patients. Her laboratory leverages genomic, biochemical, and cell-biologic approaches to define and target the pathobiology driving malignant progression in treatment-refractory tumour contexts.
Current areas of interest include:
Defining drivers of triple negative breast cancer metastasis
The molecular underpinnings of inflammatory breast cancer
Identifying tractable therapeutic targets in uncommon and rare ovarian tumours
Understanding drivers of chemoresistance in epithelial ovarian cancer
Associate Professor Cunliffe also has an interest and significant expertise in biospecimen science to empower genomics-enabled medicine.
Biography
Associate Professor Cunliffe completed her undergraduate training at Victoria University of Wellington and received her PhD in Biochemistry and Molecular Biology from the University of Otago. She then trained as a Postdoctoral Fellow from 1999–2004 in the Cancer Genetics Branch of the National Human Genome Research Institute, at the National Institutes of Health, in Bethesda, MD, USA. In 2004, Associate Professor Cunliffe joined the research faculty at the Translational Genomics Research Institute (TGen), a not-for-profit biomedical research institute in Phoenix Arizona, where she headed the Breast and Ovarian Cancer Research Unit for 10 years prior to returning to the University of Otago.