Dr Kevin Ly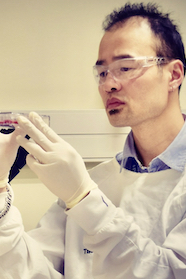 University Links
Position

Postdoctoral Fellow

Department

Department of Pathology (Dunedin)

Qualifications

MSc PhD

Research summary

P53 isoforms in cancer, IBD and obesity

Memberships

Affiliate of the Maurice Wilkins Centre New Zealand
Australia and New Zealand Society for Immunology
Research
My research investigates the effect of an Δ133p53-like isoform on the anti-tumour immunotherapy response.
Immunotherapy aims to use the patient's immune system to treat cancer by inducing the immune system to attack the tumour. However, this type of therapy is not always effective and some patients develop resistance to the treatment.
In recent studies from the Braithwaite laboratory, over-expression of a tumour suppressor variant known as Δ133p53 has been found in some cancers to be associated with poor outcomes. My project aims to find out how the Δ133p53 variant affects the immune response in the tumour and the effectiveness of immunotherapies, in the context of colorectal cancer.
My research aims to identify Δ133p53 as a marker for predicting the patient's response to immunotherapy. It also aims to provide information for improving immune-targeted therapies for solid cancers.
Additional details
Dr Ly's research is supported by a Cancer Society of New Zealand Postdoctoral Fellowship.