Professor Mike Eccles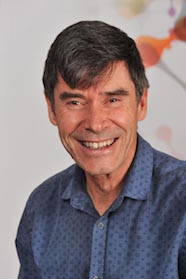 Contact Details
Phone

64 3 479 7878

Email
Position

Professor and New Zealand Institute for Cancer Research Trust Chair in Cancer Pathology

Department

Department of Pathology (Dunedin)

Qualifications

BSc(Hons)(Massey) PhD(Otago)

Research summary

Genetic, environmental and epigenetic (developmental) mechanisms in cancer

Teaching

Contributor to the Genetics and BBiomedSci programmes (particularly postgraduate student supervision)

Memberships

New Zealand Organisation for Rare Disorders Executive Committee member.
Director, New Zealand Institute for Rare Disease Research Limited.
Melanoma Network (MelNet; A melanoma network in NZ) Executive Committee member.
Health Research South Board member.
Steering Committee member, Genetics Otago, University of Otago.
Steering Committee member, Centre for Reproduction and Genomics, University of Otago.
Kidney in Health and Disease Research Network Executive Committee member, University of Otago.
Member of Maurice Wilkins Centre CoRE.
Member of the Centre for Translational Cancer Research, University of Otago.
Member National Melanoma Standards Working Group.

Principal Investigator (non-management) Maurice Wilkins Centre for Molecular Biodiscovery (newly funded term, 2015-2018)
Member, F1000Prime
New Zealand Organisation for Rare Disorders Executive Committee
Director, New Zealand Institute for Rare Disease Research Limited
MelNet (A melanoma network in NZ) Executive Committee
Centre for Translational Cancer Research
Pathology Department Executive Committee
Pathology Department Research Committee
BRF Management Committee
Board member ANZNET Neuroendocrine Tumour Research Group

Clinical

Clinical interest: Genetics and genomics in translational medicine
Research
Presently, I specialise in molecular cancer research, with expertise in cancer genetics, human molecular genetics, and developmental genetics. My research background involves gene and chromosome mapping, epigenetic studies of gene regulation, and impacts on cell behaviour of gene expression. I head the Developmental Genetics and Pathology Laboratory in the Pathology Department, Dunedin School of Medicine, and am currently very interested in genetic, environmental, and epigenetic mechanisms of cancer in relation to developmental biology and cancer / overgrowth diseases.
My research for some years has been focused on PAX genes in development and cancer / overgrowth diseases, and I have also have a continuing focus on epigenetics / genomic imprinting research in childhood cancer. More recently I have been turning my attention to melanoma. I am a founding member of both MelNet, a network of melanoma professionals in NZ, and of NZORD, the NZ Organisation for Rare Diseases.
Current research interests are to:

Identify genomic and epigenomic features characterising metastatic versus primary melanomas
Investigate transcriptomic and signalling pathways cooperating with PAX genes in promoting tumourigenesis
Additional details
The Chair in Cancer Pathology was funded and established in 2006 in the Pathology Department at the University of Otago in partnership with the NZ Institute for Cancer Research Trust ("the NZICR Trust"). The NZICR Trust is also presently supporting a research fellow (Dr Aniruddha Chatterjee) in the Chair in Cancer Pathology's laboratory. Professor Eccles is the inuagural Professor to hold the Chair in Cancer Pathology (2006-present).