Professor Dirk De Ridder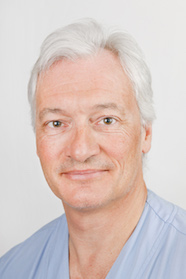 Contact Details
Phone

+64 3 470 9337

Email
Position

Professor of Neurosurgery

Department

Department of Surgical Sciences (Dunedin)

Qualifications

MD PhD

Research summary

Functional imaging guided invasive and non-invasive neuromodulation of phantom percepts and psychological disorders

Clinical

<p>Skull base surgery (vestibular schwannomas, pituitary surgery), microvascular decompression surgery</p>
Research
My research is centered on a Darwinian predictive brain model with Bayesian updating to adapt to an ever changing environment. This model is the basis to understand common pathophysiological mechanisms clustering groups of pathologies, such as thalamocortical dysrhythmias (pain, tinnitus, epilepsy, depression, Parkinson's disease, schizophrenia) or obsessive compulsive spectrum disorder (addiction, OCD, eating disorders,...).
This pathophysiological clustering permits to translate knowledge obtained from one disease to other diseases with similar underlying mechanisms, and to develop novel neuromodulation treatments based on it.
Our clinical neuromodulation research is based on the following concept:
All aspects of human normal and pathological behaviour are based on brain activity and connectivity
This activity and connectivity can be visualised by functional imaging techniques (PET, fMRI, EEG, MEG)
Non-invasive neuromodulation techniques (TMS, tDCS, tRNS, tACS, EEGfeedback) can be used to modulate the abnormal activity and connectivity
If this exerts a clinical benefit a permanent electrode can be implanted on the areas that yield clinical benefit with non-invasive techniques.
A third line of scientific interests focuses on the neural correlates of the 'self', how the self is generated in the brain (out of body experiences), its relation to the environment (perception and phantom perception), to others (morality and its pathologies) and god (religion).
Worldwide top ranking in Tinnitus expertise
Professor De Ridder has been ranked top-rated expert worldwide for expertise in Tinnitus as reported in Expertscape Inc:
expertscape.com website
Additional details
Most of my research starts with a philosophical account, predominantly based on Aristotelian thinking.