Dr Niranjan Ramesh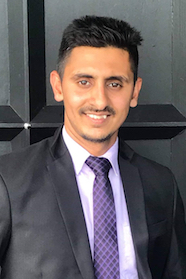 Contact Details
Phone

+64 3 471 6277

Email
Position

Teaching Fellow

Department

Department of Anatomy

Qualifications

B Tech (India) MSc (Sheffield) PhD (Otago)

Research summary

Biomaterials, tissue engineering and regenerative medicine

Teaching

HUBS 191 and HUBS 192, Human Body Systems
BIOA 201, Biocultural Human Skeletal Biology
ANAT242, Neurobiology

Memberships

European Society for Biomaterials (ESB)
Australasian Society for Biomaterials & tissue Engineering (ASBTE)
Clinical Anatomy Research Group (CARG)
Emerging Researchers Group (ERG)
Research
Niranjan's expertise lies in translational research in biomaterials and regenerative medicine. He maintains a keen interest in developing novel biomaterials derived from both natural and synthetic resources and modifying them to improve their functionality and biocompatibility to promote tissue regeneration.
Niranjan's current projects include:

Development of a smart toothpaste for improving oral hygiene and implant longevity (funded by Health Research Council NZ)
Development of a novel bioactive bone substitute from New Zealand-sourced bovine bones for bone regeneration
Development of bioactive biocomposites for repairing bone and dental defects
Ionic substitutions in synthetic hydroxyapatite
Development of novel temperature-sensitive hydrogels for bone tissue engineering
Additional details
Niranjan is passionate about facilitating conversations relating to mental health in the university community. Niranjan's campaign in collaboration with Silverline Otago focuses on advocating for better mental health support to students and early career researchers, and creating men's mental health awareness.