Associate Professor May Mei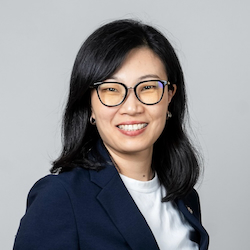 Contact Details
Phone

+64 3 479 7012

Email
University Links
Position

Associate Professor

Department

Department of Oral Rehabilitation

Qualifications

BDS MDS PhD

Research summary

Cariology

Teaching

Paper coordinator of DENT261

Memberships

Membership of International Association for Dental Research (IADR)
Membership of Academy of Dental Materials (ADM)
Secretary of IADR-ANZ division
President-elect of IADR Cariology Research Group

Clinical

Restorative Dentistry
Research
Associate Professor Mei's research focuses on Cariology:

The effect of silver diamine fluoride on mineralized tissue, collagen and biofilm
Developing bioactive materials to prevent and arrest caries
Associate Professor Mei's Scopus H index is 30 to date. Associate Professor Mei is sitting on the Editorial Board of Archives of Oral Biology, and Journal of Dentistry.
Publications
Tenuta, L. M. A., Nóbrega, D. F., & Mei, M. L. (2023). The use of fluorides in the control of coronal caries. In J. C. Carvalho (Ed.), Monographs in oral science. Coronal caries: Evolving evidence and clinical practice (Vol. 31). Basel, Switzerland: Karger. doi: 10.1159/000530564
Meng, Q., Chen, Y., Ni, K., Li, Y., Li, X., Meng, J., … Mei, M. L. (2023). The effect of different ferrule heights and crown-to-root ratios on fracture resistance of endodontically-treated mandibular premolars restored with fiber post or cast metal post system: An in vitro study. BMC Oral Health, 23, 360. doi: 10.1186/s12903-023-03053-4
Zhang, O. L., Niu, J. Y., Yin, I. X., Yu, O. Y., Mei, M. L., & Chu, C. H. (2023). Bioactive materials for caries management: A literature review. Dentistry Journal, 11, 59. doi: 10.3390/dj11030059
Chu, C. H., Mei, M. L., & Wu, W. K. K. (2023). Novel dentotropic antimicrobial peptide to prevent dental caries: Abridged secondary publication. Hong Kong Medical Journal, 29(1, Suppl. 1), 34-38.
Zhang, O. L., Niu, J. Y., Yu, O. Y., Mei, M. L., Jakubovics, N. S., & Chu, C. H. (2023). Peptide designs for use in caries management: A systematic review. International Journal of Molecular Sciences, 24, 4247. doi: 10.3390/ijms24044247