Professor Rob Walker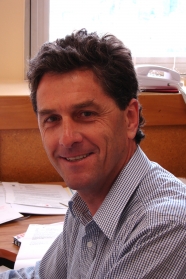 Contact Details
Phone

+64 3 474 0999 extn 58538

Email
Position

Professor, Mary Glendining Chair in Medicine

Department

Department of Medicine (Dunedin)

Qualifications

MB ChB MD(Otago) FRACP FASN FAHA

Research summary

Kidney health and disease

Memberships

Member International Society of Nephrology Nexus and Forefronts programme committee.
KDIGO lipid guidelines committee, CARI guidelines committee - Cardiovascular risk factors in renal disease.
Member CARI guidelines committee - Dialysis adequacy.
Honorary Secretary and Member Executive Council ASPN, with a strong interest in developing the links between Australia and New Zealand with South East Asia and the Pacific.

Clinical

<ul><li>Nephrology</li><li> Cardiovascular outcomes in kidney disease</li><li> Dialysis outcomes in the elderly</li><li> Acute kidney injury</li><li> Diabetic kidney disease</li></ul>
Research
Clinical research including cardiovascular risk factors associated with CKD; hypertension, obesity and inflammation; drug induced nephrotoxicity; drugs, exercise and kidney function; acute kidney injury; dialysis outcomes in the elderly.
Basic science research focused upon mechanisms of chronic interstitial fibrosis in a chronic-lithium animal model.
Funders include Health Research Council NZ, Lotteries Health, Kidney Health NZ, Otago Medical Research Foundation.
Over 180 publications.
Additional details
Director University of Otago Research Theme: The Kidney in Health and Disease.