Professor Ben Wheeler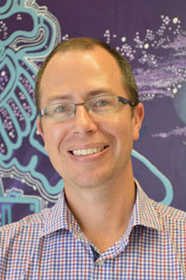 Contact Details
Phone

+64 3 470 9189

Email
Position

Professor / Paediatric Endocrinologist

Department

Department of Women's and Children's Health (Dunedin)

Qualifications

MB ChB(Otago) DCH PhD CCE FRACP

Research summary

Professor Ben Wheeler is a Paediatric Endocrinologist and Paediatrician working for the University of Otago and the Southern District Health Board. His research focuses on access to and use of new technologies for children and young people affecte

Clinical

Children's health, Paediatric endocrinology and diabetes
Research
Professor Ben Wheeler is a Paediatric Endocrinologist and Paediatrician working for the University of Otago and the Southern District Health Board.
His research focuses on access to and use of new technologies for children and young people affected by diabetes, as well as factors that impact on glycaemic control in diabetes. He also has a research interest in vitamin D and bone health during pregnancy, lactation, and infancy. He has a number of collaborations ongoing in these areas, and usually multiple clinical trials or studies running in these areas at any one time.
He is always looking for new collaborations and for new PhD and other research students to join his team.