Associate Professor Sunyoung Ma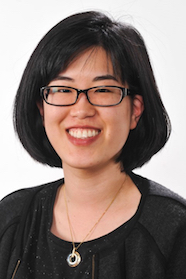 Contact Details
Phone

+64 3 479 7044

Email
Position

Associate Professor / Specialist Prosthodontist / Associate Dean (Postgraduate Studies)

Department

Department of Oral Rehabilitation

Qualifications

BDS DClinDent PhD

Research summary

Implant dentistry, removable prosthodontics, gerodontology, CAD/CAM dentistry

Teaching

BDS4 Year Chair
DENT461 Removable Prosthodontics Module co-ordinator
CLDN Complete Dentures and Gerodontology Module co-ordinator
CLDN Oral Implantology Module co-ordinator
Clinical supervision: DENT 461, DENT 551/561, CLDN 920, CLDN 9F

Memberships

New Zealand Association of Prosthodontists and Restorative Dentists
Academy of Australian and New Zealand Prosthodontists
International College of Prosthodontists
New Zealand Dental Association
International Team for Implantology

Clinical

DCNZ registered specialist prosthodontist with clinical expertise in fixed and removable prosthodontics and oral implantology
Research
Dr Ma's research interest includes conducting clinical trials using different treatment modalities involving dental implants for patients especially in the older age group that need to replace their missing teeth. The main research outcome of interest includes biological success of the treatment as well as long-term clinical maintenance / complications issues for both clinicians and patients including any treatment impact on oral health related quality of life for these patients. Dr Ma is also the primary investigator evaluating the clinical stability of zirconia abutments in association with low-temperature degradation and wear at the titanium-zirconia implant-abutment interfaces.
With ongoing national and international collaborations in addition to previous successful research grants and continuous external research funding support, Dr Ma continues to produce research outputs in the areas of oral implantology and gerodontology. Dr Ma has had multiple international invitations to present her research in these areas and is currently working on several book chapters specifically in the area of implant overdentures.
She has supervised multiple undergraduate and postgraduate research projects and is actively involved as a reviewer for multiple international peer reviewed journals and grant applications. Dr Ma was also the recipient of the 2018 SJWRI Undergraduate Research Supervisor Award, and J. Morita Junior Investigator Award for Geriatric Oral Research, International Association for Dental Research (IADR, 2016).