Associate Professor Alan Carne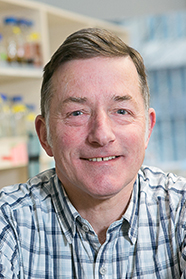 Contact Details
Phone

64 3 479 7855

Email
University Links
Position

Associate Professor

Department

Department of Biochemistry

Qualifications

BSc(Hons) PhD(Massey)

Research summary

Protein purification and characterisation
Research
My laboratory is involved with various protein-based research projects.
Utilisation of natural product protein-containing materials that are by-products or waste products of processing, such as milk cheese whey, meat and blood waste, oilseed cake residue
Production of bioactive peptides from protein-containing by-product/waste product materials, using proteases of non-gut origin
Characterisation of milk protein fractions from different species
Meat tenderising
Characterisation of carotenoid and polyhydroxynaphthoquinone pigments from sea urchin and their binding interactions with proteins
Encapsulation of health-promoting molecules
Several other protein-based collaborative research projects
We use a variety of protein purification and analysis methods, including 1D- and 2D-electrophoresis (both mini-gel and large format), OFFGEL isoelectric focussing, western blotting, FPLC and HPLC of proteins, peptides and pigments, use of mass spectrometry workflows for proteomic analysis, and various biophysical analysis methods in collaboration with other researchers. Protease assays, bioactive peptide in vitro bioassays and more specialised cell-based assays.

Ion exchange chromatogram of fractionated proteins.
Awards
Daniel Garama
2012, Te Amorangi National Māori Excellence Award for doctoral studies