Dr Joanne Choi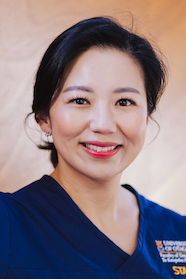 Contact Details
Phone

64 3 479 5284

Email
Position

Senior Lecturer

Department

Department of Oral Rehabilitation

Qualifications

BDentTech (Hon) PGDipCDTech PhD

Research summary

Dental materials, dental technology, biomaterials, biomechanics, and craniofacial biology

Teaching

My main teaching responsibility is to teach into Bachelor of Dental Technology and Postgraduate Diploma in Clinical Dental technology. I also give biomaterials, oral physiology, clinical lectures into Dental Surgery and Oral Health programme at both undergraduate and postgraduate level.

I supervise research students at undergraduate and postgraduate level.
Research
I carry out a qualitative and quantitative analysis of the mechanical properties and failure mechanisms of various restorative dental materials (various dental resins, metals and ceramics; CAD-CAM and 3D printed dental materials).
I also conduct research into developing new dental restorative materials to improve oral care and real-time measuring systems to evaluate physiologic changes (e.g. intraoral pH and temperature, temperature changes in restorative materials) or biomechanics of the materials in the oral cavity (e.g. pressure from dentures and other oral appliances). For my PhD, I developed and validated a wired sensor system to monitor intraoral pH and temperature for long-term periods, the results of which can be used in identifying and evaluating causal factors involved with dental wear.
I am part of the Biomechanics and Oral Implantology and Craniofacial Biology Programmes of the Sir John Walsh Research Institute.