Dr Indranil Basak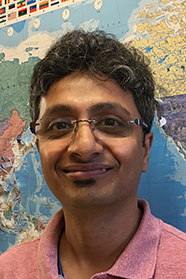 Contact Details
Phone

+64 3 479 3570

Email
University Links
Position

Research Fellow

Department

Department of Biochemistry

Research summary

Batten Disease; Neurodegeneration
Research
Indranil is a research fellow in the Department of Biochemistry. He joined the University of Otago in June 2018 to work with Prof. Stephanie Hughes. Indranil's research aims to understand the underlying mechanisms involved in neurodegeneration in Batten and Parkinson's disease. Indranil obtained a Ph.D. in Biological Sciences from St. John's University, New York, focusing on Parkinson's disease.
While studying neurodegeneration in Batten disease, Indranil has established in vitro induced pluripotent stem cell-derived human neuronal, astrocyte, and organoid models. Using these models, CRISPR technology, multi-omics, and the expertise gained from his Ph.D., Indranil started studying the genetic forms of Parkinson's disease. Indranil is currently investigating lysosomal function and metal homeostasis in Parkinson's disease with the help of independent funding from the Neurological Foundation of New Zealand.
Using his non-coding RNA expertise gained in his Ph.D. and first postdoctoral training at the University of Utah, Indranil is also keen to understand how non-coding RNAs regulate neuronal health. Funding from the Royal Society Marsden Fund and the University of Otago Research Grants is helping Indranil to investigate non-coding RNAs in neuronal lysosomes and Parkinson's disease.
Besides research, Indranil has supervised honours, Master's, and Ph.D. students, and lectured at undergraduate (Gene360) and postgraduate levels (Gene412). Indranil is involved in several service roles with the Brain Health Research Centre, Aotearoa Brain Project, and Otago CRISPR-Hub. Indranil has led several workshops/symposia on career development for early career researchers and is passionate about helping prospective students in their research and career progression.