Professor Paul Cooper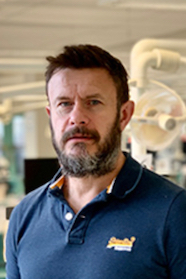 Contact Details
Phone

64 3 479 7014

Email
University Links
Position

Dean of the Faculty of Dentistry, Professor of Oral Biology

Department

Department of Oral Sciences

Qualifications

BSc(Hons) (Leeds) PhD PGCILTHE (Birmingham)

Research summary

Tissue engineering, pulp biology, periodontal inflammation, photobiomodulation

Teaching

Oral Biology

Memberships

IADR, PBRG
Research
My research is within the field of oral and dental tissue inflammation and repair. Current areas of research interest include:
1. Dentine-Pulp complex biology
Paul has led projects studying the molecular changes which occur in the dentine-pulp complex as a result of disease, dental injury and repair, and in its response to dental materials. PhD projects he has supervised have characterised dental pulp stem cells (DPSC) responses with the aim of developing novel treatment technologies.
2. Molecular and Cellular aspects of Periodontal Disease
Paul has led studies characterising oral epithelial or neutrophil responses to periodontal bacteria. In collaboration his work has shown that elevated systemic levels of IFNs are associated with the disease. Subsequently this has led to further studies on the roles of Neutrophil Extracellular Traps (NETs), auto-immunity/-inflammation, DNAse deficiency, epigenetics and efferocytosis in periodontitis and its comorbidities.
3. Low Level Light/Laser Therapy (LLLT) / photobiomodulation / phototherapy
Recent studies indicate the utility of phototherapies in promoting oral and dental tissue health as well as for disinfection. Different light delivery approaches are being explored to identify delivery parameters which modulate dentine-pulp complex, gingival and immune cell responses relevant to tissue health.
4. Assessment of toothpaste cleaning
Industry funded studies have utilised profilometry, gloss analyses, stain models and SEM to investigate mechanistic actions of dental dentifrices for oral hygiene.
Additional details
Professor Cooper has over 200 research peer reviewed publications and has authored and edited 12 book chapters in oral and pulp biology. He has delivered over 40 invited lectures globally. He has supervised over 40 Doctoral students and been awarded over NZ$10-million (equivalent) in research funding.
In 2010, Paul was awarded the IADR Distinguished Scientist Young Investigator Award and he has recently been the President of the Pulp Biology and Regeneration Group of IADR and he is currently the vice-president of the IADR-ANZ Division.
He has visiting chairs at several universities around the world and serves as editor and on editorial boards for several leading dental journals.
Paul also completed a postgraduate certificate in learning and teaching in higher education (PGCILTHE) in 2003 and is a Fellow of the Higher Education Academy.