Mr James Haddow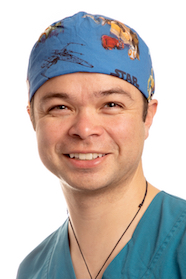 Contact Details
Position

Senior Lecturer

Department

Department of Surgical Sciences (Dunedin)

Qualifications

BSc(Hons) MBBS FRCS MD(Res)

Research summary

Clinical audit software, collaborative research networks, perianal fistula disease

Teaching

Third year clinical skills
Fourth year clinical surgical attachments

Clinical

<ul> <li>Laparoscopic colorectal surgery, including TEMS, TAMIS, and TaTME</li> <li>Abdominal wall reconstruction</li> <li>Perianal fistula disease</li> <li>Pelvic floor disorders and anorectal physiology</li> <li>Ventral mesh rectopexy</li> </ul>
Research
James has joined us from the UK system with a wide portfolio of research interests.
His new role as Co-director for Otago Clinical Audit stems from an interest in software ever since he started programming on a BBC Microcomputer. To this role, he brings experience in coding relational databases, outcomes research experience and training in quality improvement. James also recently developed a COVID tracing app that was used in Dunedin Hospital foyer.

James has experience in growing research collaborations, having founded the London Surgical Research Group in 2010 - a trainee research collaborative that has amassed 800 members and produced 787 co-authors over 21 publications. James also worked as the network co-ordinator for the NIHR healthcare technology co-operative Enteric, which interfaced researchers and industry to develop new innovations in digestive diseases.
For his research degree, James studied perianal fistula disease and graduated with MD(Res) from Queen Mary University of London.
James also has a keen interest in quality improvement having completed a Darzi Fellowship in London, which included training with the King's Fund and Manchester Business School. He has gone on to redesign and improve several patient pathways, including the Day-case Abscess Pathway at Canterbury District Health Board.