Professor Stephen Robertson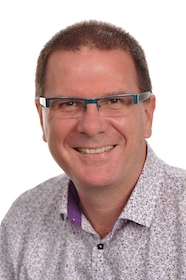 Contact Details
Phone

+64 3 479 7469

Email
Position

Curekids Professor of Paediatric Genetics

Department

Department of Women's and Children's Health (Dunedin)

Qualifications

BMedSc MB ChB(Otago) FRACP DPhil(Oxon)

Research summary

Genetic disorders affecting children, with emphasis on malformations of the skeleton and brain

Teaching

Convenor GENE 313 Medical Genetics, GENE 360, Second-, Third- and Fifth-Year Medicine, Postgraduate programmes in Clinical Genetics for Health Professionals, Diploma in Paediatrics.

Memberships

Medical and Scientific Advisory Committee, Curekids; Board Advisor, Curekids; Board Member, New Zealand Organisation for Rare Diseases; Associate Dean (Research) Dunedin School of Medicine; Gene Technology Advisory Committee; Health Research Council of New Zealand

Clinical

Clinical Geneticist with Genetic Health Services New Zealand
Research
Stephen Robertson has been the Curekids Professor of Paediatric Genetics at Otago University in Dunedin, New Zealand since 2002. He was educated at the Unversity of Otago, graduating in Medicine in 1990. He specialised in Paediatrics and then subspecialised in Clinical Genetics after training in Auckland and Melbourne.
From 1999 – 2002 he held a Nuffield Medical Fellowship at the Institute of Molecular Medicine at Oxford University, studying the genetic basis of a set of genetic disorders characterised by severe life-limiting malformations in children. His work in this area has led to the implication of several genes in the generation of malformations in children, with a particular focus on conditions that affect the skeleton and brain. This work has included the characterisation of the genetic basis of a broad group of disorders affecting the development of the skeleton, the implication of genes in the development of cancers and the genesis of skeletal and brain malformations, and studies that have implicated retinoic acid, a form of vitamin A, in skeletogenesis in humans. His research involves widespread collaborations with scientists and clinicians across the globe. He was awarded the Health Research Council's Liley Medal for outstanding contributions to medical research in 2010.
Professor Robertson continues to be an active clinician, staffing clinics throught the South and North Islands, in addition to teaching genetics to science and medical students in Dunedin. His work is supported primarily by Curekids, along with the Marsden Fund and the Health Research Council of NZ.
Additional details
Editorial Boards of Human Mutation, American Journal of Medical Genetics, Molecular Syndromology, Clinical Dysmorphology
Publications
Jenkins, Z. A., van Kogelenberg, M., Morgan, T., Jeffs, A., Fukuzawa, R., Pearl, E., … Robertson, S. P. (2009). Germline mutations in WTX cause a sclerosing skeletal dysplasia but do not predispose to tumorigenesis. Nature Genetics, 41(1), 95-100. doi: 10.1038/ng.270
Krakow, D., Robertson, S. P., King, L. M., Morgan, T., & et al (2004). Mutations in the gene encoding filamin B disrupt vertebral segmentation, joint formation and skeletogenesis. Nature Genetics, 36(4), 405-410.
Robertson, S., Twigg, S. R. F., Sutherland-Smith, A. J., Biancalana, V., Gorlin, R. J., Horn, D., … The OPD-spectrum Disorders Cli Collaborative Group Group, & Wilkie, A. O. M. (2003). Localized mutations in the gene encoding the cytoskeletal protein filamin A cause diverse malformations in humans. Nature Genetics, 33, 487-489.
Laue, K., Pogoda, H.-M., Daniel, P. B., van Haeringen, A., Alanay, Y., von Ameln, S., … Morgan, T., Gray, M. J., … Robertson, S. P. (2011). Craniosynostosis and multiple skeletal anomalies in humans and zebrafish result from a defect in the localized degradation of retinoic acid. American Journal of Human Genetics, 89(5), 595-606. doi: 10.1016/j.ajhg.2011.09.015
Simpson, M. A., Irving, M. D., Asilmaz, E., Gray, M. J., Dafou, D., Elmslie, F. V., … Robertson, S. P., … Trembath, R. C. (2011). Mutations in NOTCH2 cause Hajdu-Cheney syndrome, a disorder of severe and progressive bone loss. Nature Genetics, 43(4), 303-305. doi: 10.1038/ng.779