Katrina Pōtiki Bryant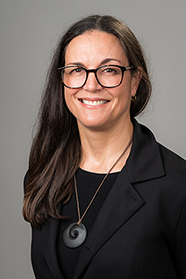 Contact Details
Phone

+64 3 479 4979

Email
Position

Lecturer

Qualifications

BPhty MPhty

Research summary

Kaupapa Māori research, clinical physiotherapy, rehabilitation and falls prevention
Research
Kaupapa Māori Research in physiotherapy with specific emphasis on:
Māori centric application of rehabilitation and injury prevention within Māori communities, working alongside iwi, hapū, whānau to conduct research answering self-identified hauora issues, cultural safety, Mātauaka Māori and data sovereignty issue, curriculum development of Hauora Māori curriculum throughout undergraduate physiotherapy education and supporting Māori student achievement in research and undergraduate study.
Clinical research developing biomechanical analysis specific to clinical physiotherapy application. This includes specific interests in posture, running gait and movement patterns required for activities of daily life, morphological anthropology and physiotherapy techniques to facilitate designed movements.
Applying indigenous movement patterns and tradition into rehabilitation to engage indigenous populations accessing relevant physiotherapy and rehabilitation services. Katrina has created a network of international indigenous Health Researchers involved in indigenous Movement for Rehabilitation incorporating indigenous knowledge and exercises for health research within indigenous communities. Katrina hopes to strengthen her ties within this network and conduct further collaborative work in this space.
Falls prevention with specific emphasis on engaging ageing Māori into community strengthening and balance exercise programmes. Taurite Tū research is direct Kaupapa Māori research that Katrina has led, out of Te Rūnanga o Ōtākou.