Associate Professor Lara Friedlander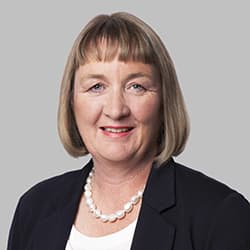 Contact Details
Phone

64 3 479 7126

Email
Position

Associate Professor and Discipline Head - Endodontics

Department

Department of Oral Rehabilitation

Qualifications

BDS MDS PhD(Otago) FRACDS FICD

Research summary

Endodontics, practice-based research, dental education, immunopathology

Teaching

Chair, Final Year Dentistry
Course Co-ordinator Clinical Practice for General Dentistry
Clinical Co-ordinator of Clinical Doctorate in Endodontics

Clinical

Specialist endodontics with particular interest in immature permanent teeth, vital pulp therapy and regeneration.
Research
Associate Professor Lara Friedlander is a Specialist Endodontist with research in the areas of pulp development and disease, practice-based research, dental education and immunopathology. She is deputy director of the Immunopathology Research Group of the Sir John Walsh Research Institute.
Associate Professor Friedlander has developed research themes in pulpal biology, regeneration and angiogenesis; and separate from this is also active in research related to Endodontic curriculum development and teaching.
Results of her PhD research around pulp biology and angiogenesis associated with immature permanent teeth have been presented at international conferences and published in internationally peer-reviewed journals. This work has influenced clinical practice by providing further knowledge about pulp cell behaviour and healing following dental trauma.
As main author she has published on Endodontic teaching and this work is on-going and now looking at 5 year outcomes. Dr Friedlander was invited to Switzerland to speak on endodontic curriculum development at the University Forum of 160 international universities and has been an invited international judge on a research panel.
Lara is a co-supervisor of Clinical Doctorate students and has PhD student supervision. She has had substantial competitive grant applications associated with these. Lara assists in advising on projects and funding applications including PhD pulp research which has evolved from her own research theme.
Associate Professor Friedlander enjoys engaging with general dentists in practice-based research and is a member of the New Zealand Dental Research Foundation Board.
Additional details
Senior Examiner for Final examination for Fellowship with the Royal Australasian College of Dental Surgeons