Professor Iain Lamont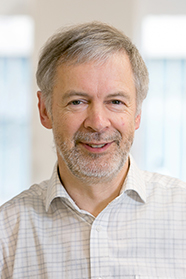 Contact Details
Phone

64 3 479 7869

Email
University Links
Position

Professor

Department

Department of Biochemistry

Qualifications

BSc (Edin) DPhil (Oxon)

Research summary

Molecular basis of infectious disease

Teaching

Biochemistry; genetics; molecular biology

Clinical

Interests: cystic fibrosis; bronchiectasis, antibiotic resistance
Research
Iain has a long-standing interest in the molecular genetics of bacteria that cause infectious disease.
He and his research team have a particular focus on the pathogenic bacterium Pseudomonas aeruginosa that causes a wide range of infections such as chronic infections in patients in cystic fibrosis.
During infection the bacteria secrete a number of agents that contribute to the pathogenic process. These include numerous proteins and an iron-scavenging compound called pyoverdine. Iain and his team are also using a wide range of biochemical, molecular biological, and genetic approaches to study the way in which pyoverdine contributes to infection and how it is made.
P. aeruginosa become very resistant to antibiotics during infection and highly resistant strains ("superbugs") are some of the most problematic infectious bacteria on the planet. Iain and his research team are using genetic, bioinformatic and molecular approaches to understand how P. aeruginosa becomes resistant to antibiotics with the long term goal of better management of infections.
Current research areas include:
Understanding how P. aeruginosa resists antibiotics

How does P. aeruginosa exist in the environment, and during infection?

Genomics and comparative genomics of Pseudomonas