Associate Professor Chris Brown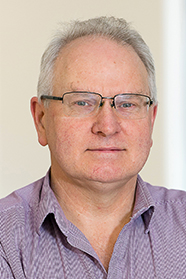 Contact Details
Phone

+64 3 479 5201

Email
University Links
Position

Associate Professor

Department

Department of Biochemistry

Qualifications

MSc PhD(Otago)

Research summary

Regulatory genomics

Teaching

Genetics and Biochemistry: BIOC 221, GENE 223, BIOC 352, BIOC 451, GENE 400, PLBI 401, MICN 201 (Genetics, Blood), MICN 301 (Genetics).
Research
Regulatory Genomics
The identification of novel regulatory elements and genes.
Gene expression must be carefully regulated in all species. We are investigating this regulation using bioinformatics and wet experiments in a range of systems. Software and datasets from the Brown group are available through our servers, by download, or through collaborators. Current projects involve the use of both computer and experimental tools to test for new types of control mechanisms.
Databases and tools for genomics.
The recent availability of large amounts of sequence data, particularly complete genome sequences and transcriptomes and proteomes, has revolutionised the study of gene expression. Our first tool (TransTerm) began over 20 years ago, it includes data and tools related to translation. Virus research tools and databases include HBVRegDB, CRISPRTarget and CRISPRSuite.
A listing of tools and their applications is on the Bioanalysis website.
Gene discovery using comparative genomics
We are using high throughput genomic from several diverse organisms, in collaboration with other groups (see collaborations). These studies include aiming to identify coding and non-coding RNAs and regulatory elements in these genomes. Applications include - plant pathogen and endophyte interactions, methanogen genomes, and pathogenic bacterial and viral genomes and viromes.
Potential PhD (Doctoral) or MSc research projects
There are several exciting projects available to students including Bioinformatics, Virology or Cell Biology or a mix of these. The balance of the approach would depend on the skills and interests of the person (e.g. Bioinformatics, Genetics, Genomics). These could be supervised in collaborations (e.g. with CRIs or other Otago Researchers). Please send a CV including academic references and reason why you are interested in that project to me.
Indicative projects (for 2019–2020)
Discovery of viruses in genomic and virome sequences
Genomic and transcriptomic approaches to reducing agricultural greenhouse gas emissions (jointly supervised with collaborators).
Discovery of key features of the bacterial adaptive immune system (CRISPR-Cas). Jointly supervised by Dr Peter Fineran (Microbiology and Immunology).
Plant/Fungal interactions and genomics (with Dr David Orlovich, Botany)
More information on fellowships and scholarships can be found on the University of Otago postgraduate pages.
Current collaborations
Peter Fineran (Otago, Microbiology). The discovery of CRISPR elements in bacterial genomes and their targets in viral (bacteriophage) genomes.
David Orlovich and Tina Summerfield (Botany) New Zealand native mushroom genomes (Taonga).
Artemio Mendoza (Bio-Protection, Lincoln) Genomics of fungal-plant interactions - Gene expression bioinformatics. Fungal non-coding RNAs.
Abigail Smith (Marine Science) Bryozoan genomics
Thanks to past and present funding agencies
Dunedin School of Medicine Bequest Funds
University of Otago Research Grants
Human Frontier Science Organisation
Health Research Council
Lotteries Health
The Marsden Fund
Joint Genome Institute
I am interested in contacts from potential collaborators, postdoctoral fellows, and graduate students.