Professor Jonathan Broadbent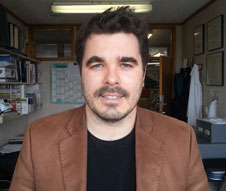 Contact Details
Phone

64 3 479 7879

Email
Position

Professor, Dental Public Health

Department

Department of Oral Sciences

Qualifications

BDS PhD PGDipComDent

Research summary

Longitudinal dental health research
Research
Professor Broadbent's research interests include the epidemiology of dental caries, tooth loss, and periodontal disease. He has special interests in dental longitudinal research and inequalities in dental health.
Publications
Jansen van Vuuren, L., Jansen van Vuuren, W. A., Broadbent, J. M., Duncan, W. J., & Waddell, J. N. (2023). Measurement of tooth displacement. Journal of the Mechanical Behavior of Biomedical Materials, 146, 106059. doi: 10.1016/j.jmbbm.2023.106059
Puente-Sierra, M., Chambers, T., Marek, L., Broadbent, J. M., O'Brien, B., & Hobbs, M. (2023). The development and validation of a nationwide dataset of water distribution zones in Aotearoa New Zealand: A cross-sectional geospatial study [Data article]. Data in Brief, 49, 109349. doi: 10.1016/j.dib.2023.109349
Chapman, R. A., Thomson, W. M., & Broadbent, J. M. (2023). Using the Child Perceptions Questionnaire with young adults. Community Dentistry & Oral Epidemiology. Advance online publication. doi: 10.1111/cdoe.12887
Chai, X., Noh, G., Beckett, D. M., Broadbent, J. M., Schluter, P. J., & Carrington, S. D. (2023). Awareness and experience of dental care services among students enrolled at two New Zealand universities. New Zealand Dental Journal, 119(1), 49-56.
Osborne, A. J., Broadbent, J. M., Morton, S. M. B., Boden, J. M., & Poulton, R. (2023). What have we learned from longitudinal studies in Aotearoa New Zealand? Journal of the Royal Society of New Zealand, 53(4), 425-428. doi: 10.1080/03036758.2023.2208778