Dr Magdalena Ratajska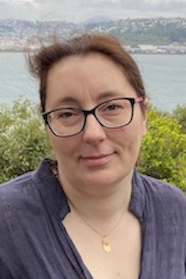 Contact Details
University Links
Position

Research Fellow

Department

Department of Pathology (Dunedin)

Qualifications

MSc PhD DSc

Research summary

Cancer genetics

Teaching

I hold a postgraduate diploma in pedagogy; Technical University of Gdansk, Poland. At Otago I have taught ELM 2 and ELM 3.

Memberships

Gynaecological Cancer League (GCL), New Zealand
New Zealand Society for Oncology
Maurice Wilkins Centre Affiliate Investigator, New Zealand
MelNet- Melanoma Network of New Zealand
Polish Society of Human Genetics
Scientific Society of Gdansk, Poland
Research
Since the beginning of my career, I have been involved in breast/ovarian cancer research. I was fortunate to be guided by exceptional mentors who supported my growth as a scientist.
My main focus of interest are:

Role of pathogenic variants in moderate and low-penetrant genes in predisposition to breast and ovarian cancer
Role of alternative mRNA splicing and alternative isoforms in the pathogenesis of breast and ovarian cancer (including a role of the BARD1 gene in the pathobiology of triple-negative breast cancer)
Application of liquid biopsies (cell-free tumour DNA; ctDNA) in clinical diagnostic (targeted therapies in solid tumours) and the identification of potential prognostic markers
combining knowledge of genetic and epigenetic alterations and their impact on cancer progression and therapy resistance and understanding further cancer biology
Career achievements
Being a woman and a scientist in the early 2000s was challenging. Still, I successfully managed a full-time position as an Assistant Research Fellow while also carrying out my doctoral training at the Medical University of Gdansk, Poland. A major outcome from my PhD was the development of the 1-line diagnostic assay for BRCA1 screening, which has since helped diagnose approximately 8000 women at high risk of cancer.
During my PhD and post-doctoral research, I have developed considerable experience in analysing moderate/low penetrant genes linked to breast/ovarian cancer predisposition (resulting in one of the first articles indicating the BARD1 gene as a possible risk factor).
Moving to New Zealand and starting my appointment at the University of Otago (2019) raised my awareness of nationwide inequality in breast and ovarian cancer management, especially among Maori and Pacifica women. In addition, while working at the Otago, I received extensive training in epigenetic analyses and have applied this knowledge to better understand breast and ovarian cancer pathogenesis. I have established strong national and international linkages with genetic experts (scientific and clinical) and key policy advocates (e.g. Te Ahu o Te Kahu). From this position, I will seek to translate new discoveries from genomics research into clinical care.