Associate Professor Liz Ledgerwood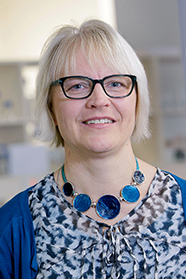 Contact Details
Phone

+64 3 479 5195

Email
Position

Associate Professor

Department

Department of Biochemistry

Qualifications

BSc(Hons), PhD

Research summary

Apoptosis, signal transduction, redox regulation
Research
Research in our lab is aimed at understanding the regulation of signal transduction in mammalian cells. We are currently focusing on two specific pathways; the role of cytochrome c in the regulation of apoptosis, and redox regulation of mammalian cell signalling.
Determining the role of cytochrome c in the regulation of apoptosis
In collaboration with Professor Ian Morison we have identified the first naturally occurring mutation in cytochrome c, in a New Zealand family with mild thrombocytopenia (low platelets). This mutation enhances the activity of cytochrome c in the cell death pathway. By dysregulating platelet production in the bone marrow, the mutant protein causes premature release of platelets into the marrow space instead of into the circulation. We are characterising the molecular basis of this increased activity, and determining how this alters platelet production.
Redox regulation of mammalian cell signalling
Oxidants and free radicals have historically been considered harmful, causing damage to cells and being associated with disease. However over recent years it has become apparent that reactive oxygen species and shifts in redox equilibria can have beneficial as well as detrimental effects in cells. We are interested in understanding how alterations in redox equilibria translate into cellular outcomes. Hydrogen peroxide is a particularly important oxidant in cell signalling, and our data suggests that the peroxiredoxin family of peroxidases has an active role in converting peroxides into useful signals in mammalian cells, by catalysing disulfide bond formation in target proteins. The function and regulation of peroxiredoxins, and other antioxidant enzymes, is being investigated using inducible overexpression and knockdown of enzymes involved in the metabolism of reactive oxygen species (ROS) and analysing specific signalling pathways.