Dr Adam Middleton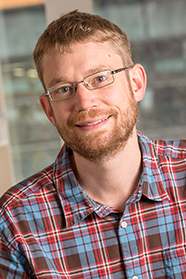 Contact Details
Phone

+64 3 479 7870

Email
University Links
Position

Senior Research Fellow

Department

Department of Biochemistry

Qualifications

PhD

Research summary

Protein Biochemistry, Structural Biology, Apoptosis
Research
Transfer of the small protein ubiquitin to substrates underlies almost all aspects of eukaryotic cells. Maintaining the balance between the addition and removal of ubiquitin is critical, and disruptions to transfer are associated with many diseases, such as cancer and neurological disorders. Importantly, ubiquitin can be added to a substrate protein as a single molecule, or it can modify itself and form ubiquitin chains. This code or language directs the fate of the substrate proteins.
In our lab we investigate the regulation of ubiquitin transfer by E2 enzymes and E3 ligases. To perform these studies, the laboratory employs ubiquitin transfer assays, binding studies, X-ray crystallography, and other biophysical techniques.
How are different ubiquitin chains produced?
Ubiquitin chains linked by Lys48 direct substrate proteins to be degraded by the proteasome, and have a critical role in regulating protein abundance. The central players in the ubiquitylation cascade are the E2 enzymes, and they typically determine the type of ubiquitin chain built. For construction of a ubiquitin chain, the E2 enzyme must bind to at least two ubiquitin moieties: the donor ubiquitin (UbD) and the acceptor ubiquitin (UbA) (see model in figure). We want to understand more about how E2 enzymes interact with UbD and UbA, and how this binding can specify the chain topology. One of our approaches is to use ubiquitin variants (UbVs) - which are modified versions of ubiquitin - that can bind tightly to enzymes of the ubiquitin cascade.
To date, 100+ UbVs have been isolated that bind to various parts of the ubiquitin machinery. Our current goal is to assess the influence of the UbVs on the in vitro activity of the E2 an E3 enzymes. We are employing high-throughput techniques in order to effectively analyse the relatively large number of UbVs isolated. Those that are of interest those that either inhibit or accelerate ubiquitin transfer are being assessed in cell-based systems.
Can E2s produce mixed chains?
Some E2 enzymes only produce chains with one topology (homotypic chains). When E2 enzymes are elongating ubiquitin chains, do they have a mechanism to ensure they are using the right kind of a chain as a template? If so, there may be a UbA-1 binding site that is linkage-type specific. An analysis of all the crystal structures of E2~Ub conjugates in the PDB (https://www.rcsb.org/) has allowed us to map some potential binding sites for UbA and a putative UbA-1 site. These need to be experimentally verified by site-directed mutagenesis and sensitive ubiquitin transfer assays. Together, these two sites could provide some E2s with the ability to only elongate particular chain types.